Free Yoga Week with the Sobins
Sommer and Paul offer a free week of classes to preview their spring series. (Plus, they had a baby on Wednesday!) Instead of online signup for these free classes, please arrive at the studio early; we'll fill the room first come, first situated. Still to come this week: Intermediate Expansion, Saturday, April 19, 9:00–10:30 a.m.
Amy Matthews and Leslie Kaminoff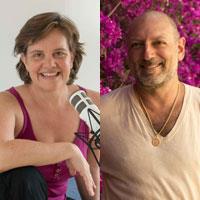 We are delighted to welcome Amy Matthews and Leslie Kaminoff to the studio Saturday and Sunday, May 17–18. Leslie and Amy are co-authors of the bestselling book Yoga Anatomy and teach the anatomy segment of our yoga teacher training. Join us for this rare event—and sign up now, as only a handful of slots remain! Details →
Vote for Carrboro & Durham Yoga Companies
We would love your support as you vote in the Indy Best of the Triangle poll! Please list Carrboro & Durham Yoga Companies for Best Yoga Studio on page 4, and thanks so much for your support! While you are voting, please visit Chapel Hill Magazine's poll, too—Best Yoga Studio is on page 3.
Yoga Teacher Training
We now offer two formats of our popular, enriching 200-hour Yoga Alliance–certified yoga teacher training in Chapel Hill/Carrboro, North Carolina. Choose between:
Three-week summer intensive, July 19–August 10, 2014
Eight-month weekend program, second weekend of the month, September 2014–April 2015
Whether you aspire to teach or simply want to immerse yourself in yoga, the program gives you a firm grounding in the basics of yoga and deepens your relationship with yoga and yourself. Join us on this journey! Details →
Donation Classes for OCRCC
Our quarterly Karma Connection partner, as it is every spring, is the Orange County Rape Crisis Center. Join us for donation classes the last Sunday of each month. One hundred percent of your donations go to OCRCC. Please bring cash or check.
Donation class for OCRCC with Michelle Johnson and Lucia Jones, Sunday, April 27, 1:30–2:45 p.m.
Donation class for OCRCC with Alexandra DeSiato, Sunday, May 25, 1:30–2:45 p.m.
Yoga for Back Care

This open series led by yoga teacher and physical therapist Laura Terry is for those with back pain or people who want to strengthen their backs safely. Saturdays, May 3–24, 1:00–2:30 p.m., $60 for all four weeks, or $20 per session. Details →
Restorative Yog-ahhh
Restorative yoga allows you to practice yoga supported by props (blankets, bolsters, and blocks), relaxing the body fully. Join Ann Burrus Saturday, April 26, 5:00–6:45 p.m., $25; $20 before April 19. Details →
Yoga 101
Our popular beginner series brings you up to speed with yoga, getting you comfortable, relaxed, and confident to move on to other classes. Wednesdays, May 7–June 25, 7:15–8:30 p.m., $100. Details →
Mantra, Beats, and Meditations

We welcome back MC Yogi, Amanda Giacomini, and DJ Drez for all-levels flow yoga workshop with live beats. Friday, April 18, 6:00–8:00 p.m. This workshop has SOLD OUT, but you can join the wait list! Details →
Curvy Yoga
Curvy Yoga, designed with bigger bodies in mind and offers many pose variations and modifications to create a soothing and healing practice, returns for a three-week series. Chrysecolla Taico leads Saturdays, May 10–24, 10:30–11:45 a.m. Details →
Summer Love
Our Meditation and Mindfulness series, Love Is Presence, returns with a variety of options, from one day to a weekend to a monthlong series. All are designed to reconnect you to the moment.
What Are We Waiting For? Saturday, May 24, 2:00–5:00 p.m.
Vipassana Meditation and Mindfulness Training Three-Day Intensive, Friday–Sunday, June 20–22
The End of Suffering, Sundays, August 3–24, 7:00–9:00 p.m.
Find details on all these offerings on our Love Is Presence page.